Click Catalog Items Below Then Click "Take Me There" Button
Radical Dominos Playing at
an El Griego Table
El Griego's Signature Series
SHIPPING COSTS AND MATERIALS HAVE RISEN CONSIDERABLY
FREE LOCAL PICKUP
All tables are made to order, handcrafted with the finest of materials.
We do not maintain a stock of finished tables.
CLICK HERE For Available Designs and Prices

Specifications:
CLICK HERE For Available Designs and Prices
Inside Playing Area = 4 square feet
Height = 30 1/2" (Plenty of Leg Room)
Outside/perimeter dimensions W=33.5" L=33.5"
NEW!!! Your Family Name and province crest placed on Art work at no Additional Charge
Super Sturdy Folding WOOD Legs on locking hinges with plenty of unobstructed LEG ROOM. Designed for Easy Storage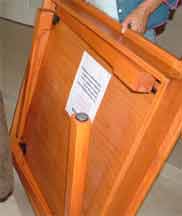 All Tables Are Solid Furniture-Grade wood with a Finish of Your Choice.
Multiple Polyurethane coatings seal the finishes in Satin or Semi-Gloss.
Artwork is covered with a 3/16" clear polymer coating.. The coating is a clear, high build, glass like finish that resists scratching, yellowing and will not distort with age. The original non-fade artwork coated with it is permanently preserved and protected for your enjoyment throughout a lifetime. This coating will not exhibit blushing or sweat out under high humidity conditions.
Plain Tables Available-Do not include art work or assembly of legs and hinges
Playing area is recessed 5/16" deep
Four Cup holders that are water tight.
Customers' choice of (6) finishes
Variety of Available Art Work Designs
Additional Choices of Art Work May Be Selected from our Online Print Portfolio
Custom Design With Your Logo (Additional Fees may or may not apply)
NOTE: Our table dominos holders are not made for large size dominos
SHIPPING TO LOWER 48 STATES..$143.00
Local Courier Delivery Available for Dade, Broward, Palm Beach and Monroe Counties, Florida. Delivery/Courier fees are according to destination, quoted by email then added later to your purchase price.
For Shipments outside the lower 48 states, (With Basic Shipping value ADD cost ($75.00) to: AL, HI and Puerto Rico destinations.
Please inquire about other overseas delivery options
All Table Designs are Original
Weight= 55Lbs.

Hi George Just wanted to let you know we love the table. It got hours of use yesterday! Thanks Mark"A Real Piece of Art, You Did It Again Griego!", Y. Alvarez, Miami
"Que Tal", where have you been hiding, Yoli, Roanoke, Va.
"Beautiful Art work and table design", George R.
"This is my Xmas and Birthday gift to my Son", A. Alvarez
"WOW!!!!", Ricky,your solid customer
"Se ve preciosa la mesa! Wow...", Vannessa U.
"Quite Possibly a serious Collector's Item...",Carlos M.
"Absolutely Beautiful! I can't wait til Christmas to give it as a gift!"...Dr. M